About Us
SERVICING THE TATIARA & LIMESTONE COAST REGION
Creaser Haulage and Bobcat is a family operated business. It is managed by local Bordertown couple Dean and Tammy Creaser. Their successful business has been serving the Tatiara and Limestone Coast region for more than 19 years, transporting throughout South Australia.
Our company was built to support the local community's grain and grape industries. Our business has been built on a reputation for reliability and professionalism. It has made us the first choice when it comes to transportation of goods.
"We believe the key to efficiency and great customer service is through using well maintained, reliable equipment. We have trained, experienced staff who are committed to meeting, and exceeding our customers' expectations." Says Tammy Creaser of Creaser Haulage and Bobcat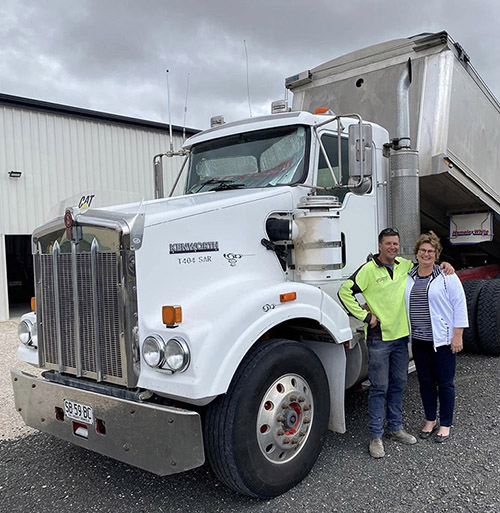 We have two T401 Kenworth trucks, which are our reliable workhorses. One has a quad dog, capable of carting 32 tonnes. The other is a semi, with a Hercules tipper that can cart 29 tonnes. Both machines are ideal for bulk haulage jobs.
It certainly is a busy time during harvest. We're the first point of call for grain cartage; from your crop to the silos. Dean Creaser and his staff operate our trucks to ensure maximum efficiency and reliability. All Operators are experienced drivers, with Worksafe approved white cards. Creaser Haulage and Bobcat take their industries OH&S standards seriously. By operating in a safe, planned environment it eliminates risk and assures that the products arrive on-time, incident free.
Creaser Haulage & Bobcat are NHVAS Accredited, which is the formal process for recognising operators who have robust safety and other management systems in place.
We believe in making sure our customers are well looked after, year after year. Our prices are competitive, and our service is second to none.
Talk to Dean and Tammy Creaser today about how we can help you with your next project. Our approach is friendly, professional and will no doubt understand your specific requirements.
– MAKE YOUR FREIGHT OUR BUSINESS.