Bobcat Contractors Bordertown
Planning some landscaping, building a fence or putting in a driveway then Creaser Haulage and Bobcat has the solution for you.
Offering services in and around Bordertown for bobcat hire and a small tip truck, all with an experienced operator, these services are coupled with laser levelling equipment and posthole digging.
The easy to manoeuvre skid steer loader can fit into awkward places and get the job done and, together with the excavator and small tip truck, make a useful combination for home landscaping work, site preparation for shed pads, driveways and cleaning out sheep and cattle yards.
This versatile equipment is the ideal choice for large or small projects. Prepare driveway surfaces, dig the ground and move dirt, stone or debris around your site, scrape away weeds and clean up and remove rubbish.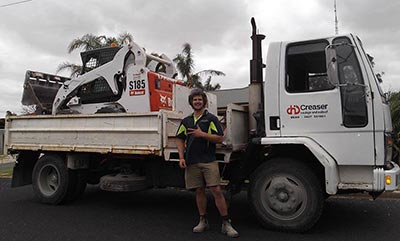 If you are living in the Bordertown area and planning some building work or improvements to your property contact Dean to talk about how these can be managed efficiently using their hire equipment.
Contact Creaser Haulage and Bobcat on 0427 521 061 for rates for bobcat hire Bordertown.