Bobcat Hire Bordertown
Planning some landscaping, preparing a building site, or putting in a driveway then Creaser Haulage and Bobcat has the solution for you.
If you're planning on starting a new landscaping or driveway project, Creaser Haulage and Bobcat are here to help. We offer services throughout Bordertown for bobcat and small tip truck hire. As a bonus, we will accompany the machine with an experienced operator, Dean Creaser, laser levelling equipment and posthole digging.
Creaser Haulage and Bobcat is an established family business, locally owned and operated, specialising in excavation and earthmoving. We're focused on providing excellent custom service and professionalism to our customers. Creaser Haulage & Bobcat have been providing residential and commercial earthworks for 10+ years.
Our easy to manoeuvre bobcats, can fit into awkward areas for easy access. Together, with the excavator and small tip truck it makes a useful combination for projects such as, home landscaping. Also, for practical solutions, such as site preparation of shed pads, driveways and cleaning out sheep and cattle yards.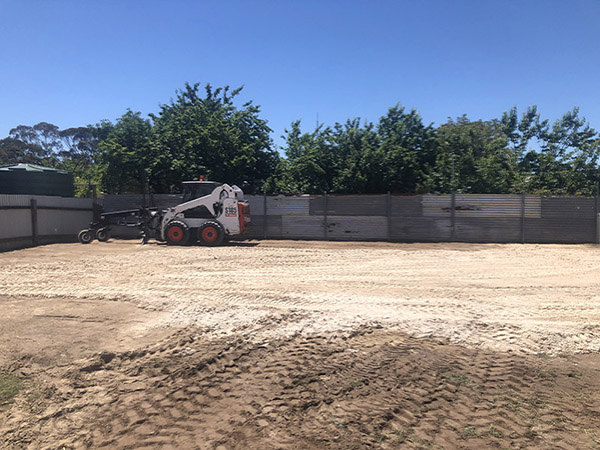 Creaser Haulage & Bobcat's versatile equipment is a great choice for large and/or small projects. We can level site pads and dig postholes. We can also remove dirt or debris around your site, scrape away weeds and clean up and remove rubbish.
We service the Bordertown area and have been a trusted local business for over 19 years.
Bobcat Hire
For any earthmoving project; from commercial, industrial construction to residential. Life is much easier with a bobcat! A bobcat is a light machine, which makes lifting earth and materials super easy. We offer services throughout the area so that you can get on with your project when required.
Creaser Haulage and Bobcat are a top-quality provider of the following services:
Bobcat Hire
Road Repairs
Site Fill
Post Hole digging
Driveway Preparation
Trenches
Soil Removal
Rock Removal
Rubbish Removal
Site Cleaning
Levelling
Garden Cleanup
Paving preparation
Shed Pad Preparation
Lawn Preparation
House Pad Preparation
Sheep Yard Preparation


Our equipment is well-maintained to ensure that each project will be completed, safely with efficiency. We're available Monday – Saturday, with flexibility to ensure your job stays on track.
The team at Creaser Haulage & Bobcat have Bobcat machines that can accommodate any job, big or small!
Machines with operators at hourly, weekly or monthly rates
Free & no obligation quotes
Highly skilled Bobcat operators

Whether you're clearing soil, digging foundations and trenches or landscaping your garden, we have skilled and experienced operators with efficient equipment to get your job done quickly and at an affordable price.
We have different skidsteers (bobcats) for different jobs. Our Kubota Track loader is best for those bigger jobs to move dirt/rubble quickly.
Contact Dean at Creaser Haulage and Bobcat on 0427 521 061 for rates on bobcat hire Bordertown.
Tip Truck Hire
With an all steel body, our tippers are ideal for moving and unloading soil and aggregates. Our tip trucks come with a removable tailgate; you can easily manoeuvre your load into position. The tippers are highly productive and compliment any project. Tip trucks are a safe and efficient way of transporting loose materials. Whether you are a contractor, construction company, supplier, or farmer, a tipper truck is one of the most useful tools of the trade you can find.
Practical and easy to fit into tight spaces. Our tip trucks are easy to load allowing the goods to be safety unloaded or dumped.
Creaser Haulage and Bobcat are a reliable service that are here to support you on your next project. Reliable, punctual with exceptional customer service. We look forward to hearing from you!
Contact Dean at Creaser Haulage and Bobcat on 0427 521 061 for rates on tip truck hire Bordertown.