When preparing for your next shed project, there are a few steps involved before any building begins. Like any project, it is important to plan and prepare.
One of the first, and potentially more obvious places to start is finding the right location. Double-check that your preferred shed location is within your property lines. There are some council guidelines that you may need to follow, to make sure you have the correct distance from your property line. You will also decide the best area for your shed, the flatter the better, away from any large trees, that will drop leaves and tree debris which will clog up your shed's gutters.
Once you have located the ideal spot, you can move on to the next step. We can help you with clearing the space from bush, rock, and dirt so that you have the area ready for your new shed.
Site preparation is important for any load bearing structure. Your shed will require an appropriate levelled foundation.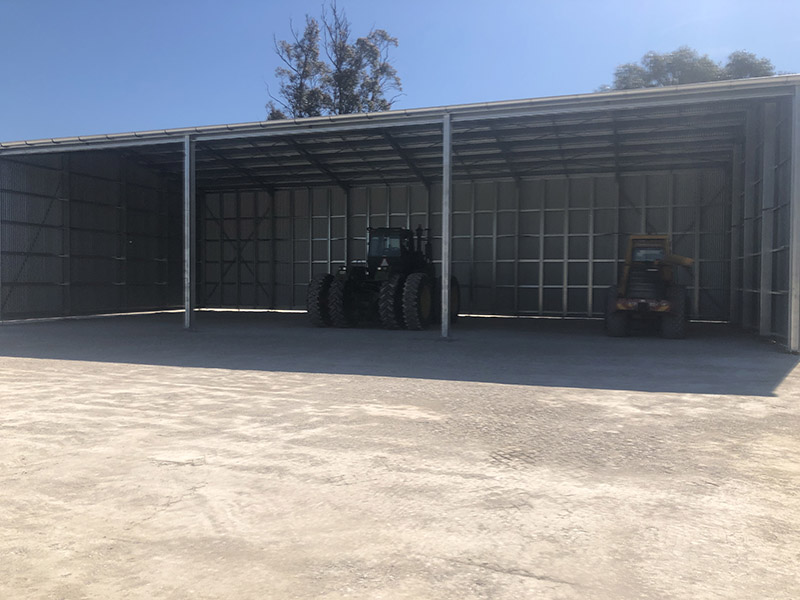 Our process of getting a flat pad is to laser level the surface using a grader blade. We then water it with a water truck and roll it with a vibrating roller. We will also ensure there is drainage for water to flow away after rain.
Whilst we're happy to lay the pad after you've constructed your shed, we recommend preparing the pad prior to the shed being erected. It is difficult to spread rubble around the columns and under wall cladding after the shed is installed. This of course is if you have a choice, we are happy to work with an assembled shed and lay the pad after if this is your only option.
Your shed pad can be left as a rubble pad or can be concreted, dependent on your needs and preference. Creaser Haulage and Bobcat work closely with Creaser Constructions that specialise in concrete work, including shed floors and concrete pits.
Creaser Constructions have plenty of experience within the shed industry, as they install steel sheds designed to suit commercial and residential environments. They can construct your shed kit and remove the headache out of the assemble. Good to keep in mind if you need some assistance!
Creaser Haulage and Bobcat can cart the rubble for your shed pad from our pit, on site. So, no need to worry hiring an extra service or doing it yourself.
Creaser Haulage & Bobcat have served the Bordertown and Tatiara community in the Limestone area for many years. We have experience preparing shed pads for large hay sheds, machinery sheds or garages. We value our local reputation for providing an excellent, reliable service to our community. With our 10+ years' experience in shed pad preparation, we have the knowledge and advice to assist you with your next project.
Contact Dean at Creaser Haulage and Bobcat on 0427 521 061 for a competitive quote for your next shed pad.